Jokers Advance to Finals with Controversial 2-1 Win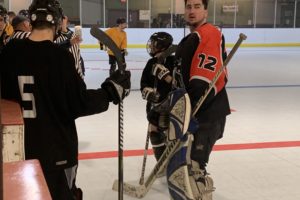 The Jokers of Doom advanced to the D-division Finals with a win over the Hurricanes on disputed third period goal by Phil Elliott. The teams battled each other hard for two periods resulting in a 1-1 deadlock with both goals coming in the first period. The Jokers would squander an early 2-1/2 minute power play after a major-roughing penalty to Hurricane Frank Guest. Fortunately Jeremy Battye would induce a holding penalty just three minutes later and he would cash it in with a lightning fast wrist shot past the Hurricanes net-minder at the 4:01 mark.
The Hurricanes would tie it up on a partial breakaway less than two minutes later. The Jokers would come up empty on two second period power plays as well setting up the third period drama. In the final frame, the teams were pressing hard to snap the tie when Phil Elliot knocked a Battye rebound toward the net. The ball seemingly hit something and bounce to the corner but no one was sure what it hit, however the referee stationed on the goal line would point to the net – signaling a goal and touching off intense protesting from the Hurricanes squad. Although the referee calling the goal easily had the best position to determine the goal, a discussion ensued. In the end, the goal was upheld and the Jokers hung on for the final 3:31 to come out on top.
Notes: Battye tallied a goal and assist… Greg Benoit stopped 23 of 24 shots for a 3rd straight win and 1st Jokers playoff win… Frank Melillo, John Condit, and Steve Looze were scratched… Jokers will face Hockey Balboa in the finals starting tomorrow at 1:00pm.