Jokers Fall, 3-2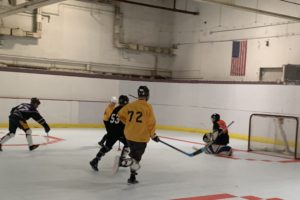 The Jokers of Doom failed to keep the momentum going after their season opening 4-2 win, coming up short versus the Vipers 3-2 behind a hat trick from John Venditti.
Venditti opened the scoring with a wicked slap-shot after he was left open from the top of the right circle. The Jokers would tie the game on the power play with a long slap-shot from Ken Herren that found it's way past ex-Jokers goalie Matt Chapman. Unfortunately Venditti nabbed his second goal as he weaved around a couple of defenders to slide home a partial breakaway goal before the first period would end for a 2-1 lead heading to the second.
In the second Venditti would get his 3rd and eventual decisive goal on a power play blast from the point. There would be no further scoring in the second period as both teams pushed with double digit shots on goal but no goals.
The final period would continue with many shots but no goals until Phil Elliott broke through with a long wrist shot that found it's way to the back of the net. As time wound down the Jokers were unable to pull their goalie for the extra attacker until there were only a few ticks left and were unable to generate pressure or a goal in the late stages.
Notes: The Jokers will next face Ray Glowicki and the 1-0 Pure Chaos on Thursday evening… Frank Melillo and leading score Jeremy Battye were not in the lineup… Greg Benoit played well stopping 28 of 31 shots but falls to 1-1 along with the Jokers… Defenseman Aaron Duncan takes the early PIM lead with 2 penalties in the game.