Jokers Open Spring Season With 4-2 Win Behind Battye's Hat Trick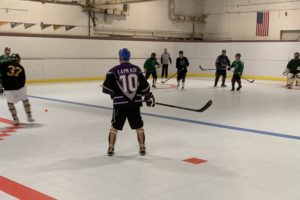 The Jokers of Doom opened the spring season with a 4-2 win highlighted by Jeremy Battye's hat trick. Battye opened the scoring with a goal at 2:25 assisted by Phil Elliott. Then with only 3 seconds left in the first period Kevin LaPrade banged home another goal, assisted by John Condit.
In the second the Tomahawks would net a tip in goal just 34 seconds into the period. However with 1:46 left Battye would pick off a pass and score on a breakaway pushing the lead back to two goals at 3-1.
Finally in the 3rd the Tomahawks again would push closer with a goal at the 2:57 mark after the Jokers were unable to clear the zone. With time winding down the Tomahawks pulled their goalie looking for a tie but Battye would come up with the ball at mid court and fire a wrist shot into the empty net for his 3rd goal and secure the 4-2 win.
The Jokers won't have much time to enjoy the win – game two of the season is scheduled for Thursday at 7:00pm.
Notes:
The first period was marred by what could be a major injury to captain Jim Brunetti who hurt his left foot/heel. He was scheduled for an evaluation after the game. Winger Kristie Rochette, and defensemen Jim Salkins and Aaron Duncan were unavailable for game one. New Jokers goalie Greg Benoit stopped 31 of 33 shots for the win.