Jokers Steal Playoff Win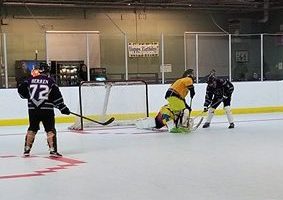 Once again the Jokers of Doom found themselves being out shot in a game, this time by the hefty margin of 29-13. However as in many other games this season, they found a way to win versus the Vipers.
Ken Herren opened the scoring at 3:12 by sliding in a backhander into a wide open net after a brief scramble in front, assisted by linemates Garrett Salkins and Frank Melillo. The period would end with a 1-0 lead on the scoreboard and an 11-5 deficit in shots.
In the second Josh Berrelli made it 2-0 after picking up a rebound and lofting a back hand flip past ex-Joker goalie Fernando Gomez, assisted by linemates Jim Brunetti and Kevin LaPrade. The Vipers however would get on the board before the period ended as John Venditti would blast home a long shot at 4:47. Once again the period would end tied 1-1 in goals but behind in shots 9-5.
Things got more interesting in the 3rd period as there would be 3 penalties and 3 goals scored. Just 35 seconds in LaPrade would again find the scoresheet, slamming home a quick blast between the circles on a feed from Berrelli. Only 38 seconds later a wide open Jeff Condel would whip home a wrist shot to make it 3-2 and increase the pressure. LaPrade would once again bust through with a goal on a quick shot from 10 feet in front on a rebound of a shot by G. Salkins. The Vipers could not get another past Jokers goalie Matt Dutily, who came up huge many times especially in the first period and again in the final 6+ minutes.
The Jokers will now move on the best of 3 finals in D division with game 1 Saturday at 1:00pm at the Plainville Arena against the Hurricanes, who upset top seed Springfield Chiefs 7-3. They are 1-1 versus the Hurricanes this season, winning 3-2 on December 13, and losing 6-5 on January 31. It has the makings of a 3 game battle.
Notes: Jokers scored two goals on three shots in the third period… Final shot total Vipers 29, Jokers 13… Injured goalie Andy Pettola (achilles) was present on the bench rooting on his team.